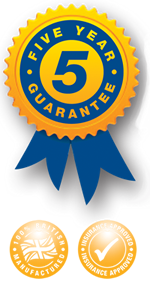 Keeping your house and garage secure during isolation
Date: 08/04/2020
We are living through extraordinary times and while all our thoughts are focused on the coronavirus crises and the devastating impact it's having on day-to-day life, it's important to see that your guard doesn't drop in terms of security.
It's an unfortunate fact of life that despite the current situation there are those only too willing to gain from the pandemic and, sadly, thieves are still operating. That is why we are urging you to give some thought to home and garage security during the current isolation.
We regularly provide blogs on our website about the steps you can take to ensure you stay secure which are still available to view. We also have a comprehensive range of home and garage security items to help you achieve it.
Lock it or lose it
You have some highly desirable possessions and don't make the mistake of thinking you're safe just because you have to say at home at the moment. Make sure:
● All windows and doors are locked
● The garage is safely secured
● Any gardening equipment is locked away safely in a shed or other appropriate outbuilding
● You get an alarm fitted
The garden is the only place outdoors you should really be right now - apart from your one piece of daily exercise - so don't venture into your back garden without first ensuring the front door is locked.
Most of us are still inclined to leave the back door open, particularly with summer approaching, but this could be an invitation too good to miss for the thief. Remember, you are not immune to attack just because you are home!
Keep your car locked in the garage if possible but see that it's always locked if it must be kept on the drive. Vehicles are still being targeted by thieves who are only too aware that they are not being moved for a considerable time, allowing them to carefully seek out their prey and plan their attack.
Thieves even targeted the cars belonging to our frontline nurses at a hospital last week by stealing their catalytic converter off their vehicles as they worked to save lives.
Knowing you are not moving far from home affords them the time to remove any obstacles in advance and move CCTV cameras out of the way without homeowners knowing.
Be Aware
We can all let our guard down at times of crisis so always think about what you are doing on those rare trips to the supermarket to replenish your supplies. A woman was the victim of a distraction theft in one of Telford's Aldi car parks when another woman shouted "help" from a nearby car.
The shopper had just thrown her handbag on the front seat of her own vehicle before running to help. The person asked for directions to the hospital and while the kind shopper was telling her, an accomplice of the woman "in distress" was emptying the handbag before putting it back on the seat.
It's worth remembering that there are fewer witnesses around due to isolation and this is especially so in the more rural areas where our farmers are still working hard to keep the food supply chain going.
So it's all the more important for farmers and those people living in rural communities to heed the security warnings and keep homes and buildings locked and machinery, quad bikes and vehicles secured.
It's important that we all stay safe from infection during the present crisis but it's also vital that we ensure our homes and possessions remain secure from theft.