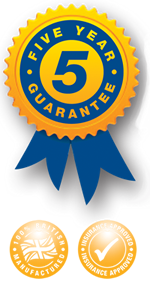 Bulldog BD16 Garden Path Lights (Pack of 2)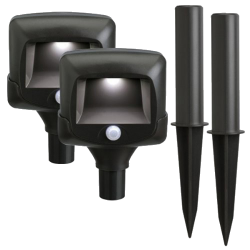 Product Details
They are great for lighting garden pathways and outdoor hazards with a glow feature that brightens as you approach.
Features:
Detects motion up to 4 metres
Garden Path Light will only turn on when both motion and darkness is detected.
Provides 12 metres of light coverage
Weatherproof, suitable for indoors and outdoors
Internal switch to turn on optional 'glow' feature when dark
Automatically returns to 'glow mode' either 20 seconds or 5 minutes (your choice) after last motion detected
Powered by 3 x C alkaline batteries per light ( not included)
Comes in a pack of 2 with stakes
*Please Note that this product is not covered by our 5 year guarantee.
Testimonials
"Great product for lighting up my dark steps from my front gate. Have no street lights so always have to carry a torch - these lights are brilliant and could be used in so many places I might have to buy some more!" M.Scott
"I've bought two of these packs and I couldn't be happier with the product. It looks great at night and was so easy to set up. The ground stakes meant I could place my light right into the ground knowing it would never fall down." J.Brown
"The path light does exactly what it says on the website. I am so pleased with mine, it lights my pathway with enough light to see where you're going but it's not too bright. I can now see all the way around my garden and will be buying another set to light the pathway up to my front door. Great product. " S.Lewis