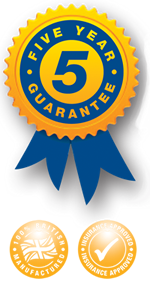 Bulldogs answer to caravan pitching and snaking
Article Date: 31/03/2010
Based in the heart of touring country in the idyllic setting of Much Wenlock Shropshire, Bulldog Security Products have manufactured safety and security products for the past 25 years. Keen caravanners themselves, they understand the importance of safety critical equipment and security equipment that is both secure and easy to fit especially when its pouring down with rain.
With many new owners of caravans touring for the first time this year, the safety on our roads must come into question, pot holes, speeding vehicles and uneven road surfaces are just some of the hazards that can make towing a caravan or trailer a dangerous experience even for the most experienced driver let alone a new one.
With over 250,000 past and present users, Bulldog claim to have an answer, the Bulldog 200Q Stabiliser, it's a product that has been around for a number of years with many advantages over Stabiliser Hitch Heads, Bulldog claim it will reduce the dangerous swaying and pitching caused by uneven roads and speeding vehicles.
Also available are a range of insurance and Sold Secure approved easy fit wheel clamps and hitchlocks many of which can be fitted in 15 seconds or less. Bulldog's new user friendly website supports this claim as video footage can be viewed showing how each product can be fitted.